GIFs are standard fare these days in conversations on social networks. Using these looping clips has become a trendy way to react to all kinds of situations or simply have a few laughs. We've blogged before about how to create GIFs with a smartphone or how to convert YouTube videos into GIFs, so our task today is to explain how to post GIFs over social networks like Facebook, Twitter, and Instagram.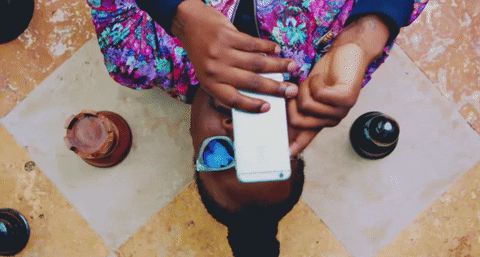 Looping animations have been around since the dawn of the Internet, but using them as reaction memes in lieu of text has only become trendy in recent years. This has made GIFs one of the greatest phenomenon of the modern web – so much so that they've even gotten their own museum installation. Hence why it's so remarkable that it can be so finicky to use them. Yep, some social networks don't directly allow you to use GIFs and you need to use little tricks to post them, as we'll explain below.
How to post GIFs on Facebook
Until quite recently the social network created by Mark Zuckerberg was no friend to GIFs. Even now it can't be said that they're besties, but things have gotten better. If you're trying to upload a GIF as you would a normal photo, you might as well fuhgeddaboutit. For some strange reason Facebook stops you from directly uploading GIFs to your wall, although as of a few months ago they've allowed them to be used through the Giphy and Tenor search tool like on Twitter and WhatsApp. Just pick the GIF category you want and either type in a keyword or scroll freely. Then tap your GIF and – boom – you're ready to post.
There is another way to post GIFs on Facebook walls, though: using an external server. You'll need to use an image-hosting site like Giphy, Tumblr, or Imgur. The option you use doesn't matter that much – just upload your animated image or pick a GIF that's already posted there. That done, just copy and paste the URL to that image to paste it straight into Facebook. The GIF will then load on your wall and you can delete the URL to add whatever text you fancy.
How to post GIFs on Instagram
It seems strange that a social network based on communicating through images doesn't allow native use of GIFs, but Instagram follows Facebook pretty much in lockstep in terms of posting them directly. Getting around that restriction is not very hard, though, and there are several different options to do it, like using the Giphy app.
This is likely the most straightforward method, as you've just got to upload a GIF or use one you want from the Android app. Then tap the Instagram button and you'll be taken to the social network where it'll be loaded as a video. If you use the desktop version, you'll need to enter an email address where the GIF will be converted to MP4 format.
Should for some reason you opt not to use Giphy to convert animated GIFs to video, you'll have to do this step manually, either with free Android apps or one of the many web services that do this automatically. Then just upload the output to the Instagram app and post it. The loop does need to last at least 3 seconds, though. Below is our list of apps and webpages so you can pick the one you like best. (In any case they are all pretty similar.)
Android apps to convert GIFs to video
Websites to convert GIFs to video
How to post GIFs on Twitter
We weren't sure whether to include Twitter in this post, as it's among the platforms that do natively allow GIFs, but it never hurts to explain the different methods and features for using these looping clips in your tweets. Plus it offers a nice counterpoint to the two previous social networks.
We've got two ways to use animated GIFs on Twitter: with the Tenor- and Giphy-based search engine or by uploading one saved on your device. Pick the first option and you've just got to tap the GIF icon that shows up at the bottom when you go to type a tweet. There you'll find a whole universe of possibilities; find an animated image by keyword or select one from the different categories. Then just tap and you're ready to tweet it.
Should you prefer to use a GIF from your phone's memory, the steps are equally simple: find it in your gallery, tap it, and tweet. Do keep in mind, though, that the max size of animated GIFs is 5MB on mobile devices and 15MB on the Twitter website. And you can only post one GIF per tweet and can't tag people in them.